RINGO STARR ANNOUNCES ADDITIONAL DETAILS FOR HIS
11th ANNUAL PEACE & LOVE BIRTHDAY WORLDWIDE CELEBRATIONS JULY 7, 2019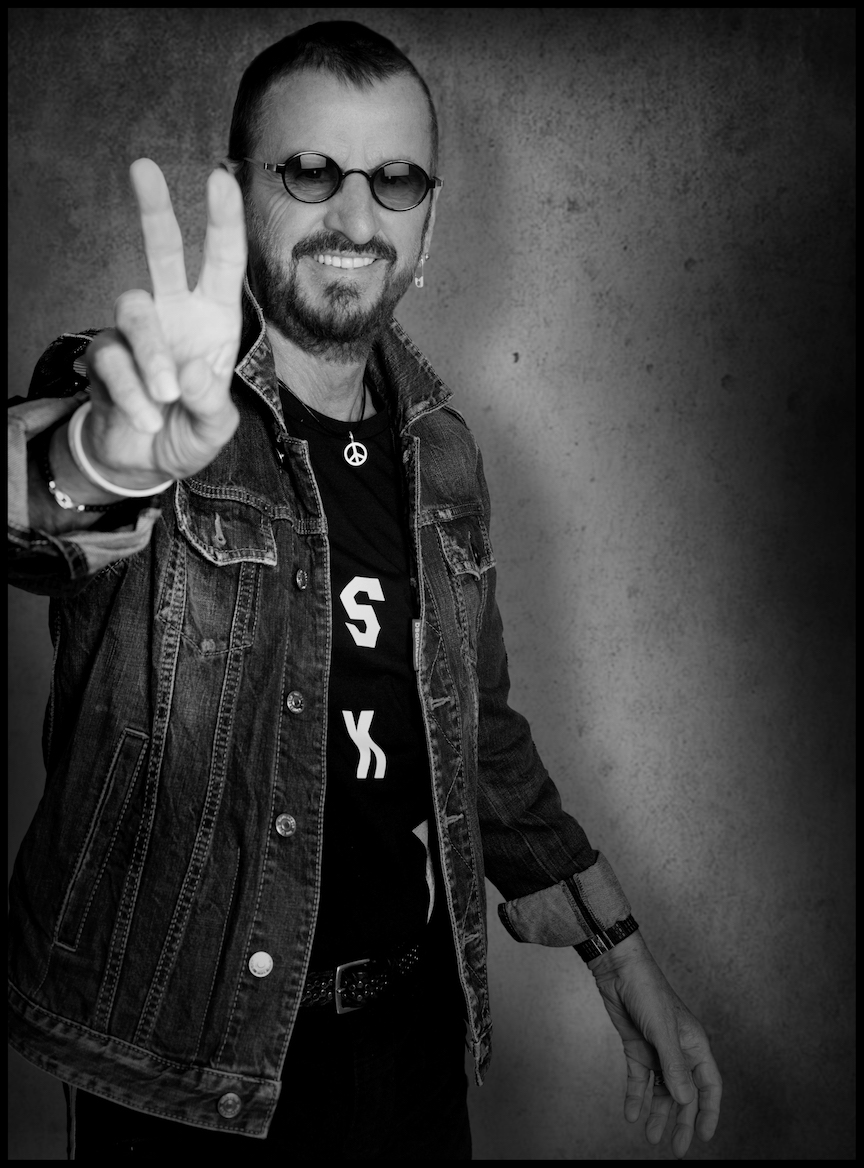 (Photo credit, Scott Robert Ritchie)
June 20, 2019 — This July 7, 2019 Ringo will return to Capitol Records Tower in Los Angeles for his annual Peace & Love Birthday event where he will join fans gathered for a Noon #peaceandlove celebration. The dream is to create a wave of Peace & Love across the planet, starting in New Zealand and ending in Hawaii. Ringo began these in 2008 at the Hard Rock Café Chicago and last year he celebrated the 10th Anniversary at the Hard Rock Café Nice. In the ensuing years it has grown enormously with #peaceandlove events all over the world, and this year already has over 30 events in 22 countries (listed below).
"I've said it before but I really can't think of a better way to celebrate my birthday, or a better gift I could ask for, than peace and love. It's so great how every year it keeps growing, with the wave of peace and love starting in the morning on July 7 in Australia and ending in Hawaii, with celebrations in all the time zones in between. I am so happy to be back at Capitol Records, and for our great sponsors who are carrying the message of peace and love around the world, like the David Lynch Foundation, Life is Good, SiriusXM, Modern Drummer and Starbucks. I also want to thank each and everyone of you for continuing to help spread peace and love, Ringo."
The event will include tribute performances by Ben Kyle from ROMANTICA with Sara Watkins, and Southern California rock and roll band The Jacks. There will also be a special premiere of an original song about peace and love composed for the occasion by students of the John Lennon Educational Tour Bus in partnership with the South Central LA Fernando Pullum Community Arts Center. The song will later premiere online as a video featuring music students as well as guest artists and friends.
WHO: Ringo Starr, Barbara Starkey, David Lynch, All Starr Alum Sheila E, Edgar Winter, Nils Lofgren, Jim Keltner, Gregg Bissonette as well as friends Ed Begley Jr, Richard Lewis, T-Bone Burnett, Benmont Tench, and Life is Good founders Bert and John Jacobs with more to be announced soon.
WHAT: Ringo Starr's 11th Annual Peace & Love Birthday Celebration
Performances of Ringo's songs will be followed by a brief welcome from David Lynch who will introduce Ringo. Ringo will lead gathered family, friends and fans in a group #PeaceandLove moment at Noon. Cake will then be presented on stage.
WHEN: Sunday, July 7, 2019
9:30am Press Check In Opens
10:45am Photo Opportunity behind Capitol Records
11:00am Music Performances Begin in front of Capitol Records
12:00pm #Peaceandlove (Noon PDT)
WHERE: Capitol Records Tower, 1750 N Vine St, Los Angeles, CA, 90028
WHAT ELSE: Everyone everywhere is invited to participate, but of course you don't have to go anywhere, or say anything, you can just think "Peace and Love," anywhere you are at Noon your local time and know you are still contributing.
FOLLOW THE FESTIVITIES AT:
More about this year's event sponsors:
The David Lynch Foundation for Consciousness-Based Education and World Peace – promotes world peace every day by teaching meditation to at risk people all over the planet. Founded by film director and Transcendental Meditation practitioner David Lynch in 2005 to fund the teaching of TM, it is the same meditation Ringo practices and was taught by the Maharishi and exemplifies Peace and Love in action. The evidence-based TM technique is life changing for the good by improving health, cognitive capabilities and performance in life. Extensive published research has found TM markedly reduces stress and stress-related disorders, including anxiety, depression, alcohol and drug misuse, and violent behaviors while also improving brain and cognitive functioning, grade point average and test scores. www.davidlynchfoundation.org
Life is Good – Life is Good is a positive lifestyle and apparel brand on a mission to spread the power of optimism. In celebration of their 25th Anniversary, Life is Good started the #SomethingGood movement to combat the daily barrage of negativity in the world by encouraging people to simply share #SomethingGood. Their hope is to add more optimism into the world by shifting the cultural conversation away from the negative and focus on growing the good. For every share, $1 will be donated to the Life is Good Kids Foundation, with a goal of inspiring one million shares. Uniting Ringo's passion to generate a global wave of peace & love with the brand's mission to spread optimism, together they jointly created a special-edition Life is Good x Ringo Starr Peace & Love T-shirt. The new tees will be available in July on Lifeisgood.com and at select Ringo Starr concerts this summer. www.lifeisgood.com
SiriusXM – Home to The Beatles Channel, returns as a sponsor and an exclusive media partner of the event. SiriusXM's The Beatles Channel celebrates popular music's most legendary and influential band, showcases all-things-Beatles with regular and special programming spanning the history-making careers of the band and its members: John Lennon, Paul McCartney, George Harrison and Ringo Starr. Chris Carter, host of SiriusXM's "Breakfast With The Beatles," which airs weekday mornings on The Beatles Channel, and is also available On Demand on the SiriusXM app, will be on-site to capture interviews and audio from the event to air on The Beatles Channel. www.siriusxm.com
Modern Drummer – Launched in 1977, this leading online and monthly publication dedicated to drummers and drumming innovated how drums and the whole of drumming is celebrated. "The world's most read drum magazine" returns as a sponsor once again. www.moderndrummer.com
The Lennon Tour Bus — The John Lennon Educational Tour Bus is a non-profit state-of-the-art mobile Pro Audio and Video recording facility that provides hands-on experiences for students of all ages. Now in its 22nd year, the Lennon Bus features the latest audio and video technology, gear and products. Lennon Bus U.S. and Lennon Bus Europe travel year-round with a crew of three producer engineers, providing free tours, workshops and live events at schools, public events, festivals, and at major industry conferences. www.lennonbus.org
In addition, Starbucks will amplify Ringo's "Peace & Love" call to action by playing a message just before Noon to their patrons in over 10,000 of their locations throughout the US and Canada. They will also be celebrating Ringo's birthday with a special Playlist curated with Ringo for the occasion that patrons can hear for three weeks starting July 5.
Here are the fan organized global events to date, with more to be announced soon via Ringo Starr's Facebook page:
Argentina, Chascomus
Armenia, Yerevan
Australia, Sydney
Bolivia, La Paz
Brazil, Rio de Janiero; Sao Paulo
Canada, Halifax
Columbia, Bogota
Costa Rica, San Jose
El Salvador, San Salvador
Estonia, Tallin
France, Paris
Germany, Hamburg and Halle
Guatemala, Guatemala City
Italy, Venice
Japan, Osaka; Tokyo
Paraguay
Peru, Lima
Russia, Moscow
Spain, Barcelona; Madrid
United Kingdom, London; Liverpool
Uruguay, Montevideo
United States, Denver, Hawaii, Las Vegas, Los Angeles and New York.
Media are welcome to attend and cover. To RSVP or for more information please contact:
Elizabeth Freund
Elizabeth@Beautifuldaymedia.com
and
Patrice Fehlen
HISTORY OF RINGO'S ANNUAL JULY 7 PEACE & LOVE BIRTHDAY CELEBRATIONS:
2008 – Chicago, IL Hard Rock Cafe
2009 –Online campaign including in store salutes at Noon at all Hard Rock Cafes worldwide
2010 – New York City, NY: Hard Rock Cafe, Times Square
2011 – Hamburg, Germany: Hard Rock Cafe
2012 – Nashville, TN: Hard Rock Café
2013 – Online celebration including a video message from Ringo
2014 – Los Angeles, CA: Capitol Records Tower
2015 – Los Angeles, CA: Capitol Records Tower
2016 – Los Angeles, CA: Capitol Records Tower
2017 – Los Angeles, CA: Capitol Records Tower
2018 – Nice, France: Hard Rock Café
Previous performers at Ringo's Birthdays have included: Toad The Wet Sprocket; Adam Arcuragi and Spirit Family Reunion; Vandaveer, Alberta Cross and Dave Stewart with Jon Stevens; Emmanuel Jal and Paul Beaubrun, Don Was with Jenny Lewis, Michael Breardon and Van Dyke Parks; Joe Walsh with Ringo Starr and His All Starr Band including Steve Lukather, Colin Hay, Graham Gouldman, Gregg Rolie, Gregg Bissonette and Warren Ham.