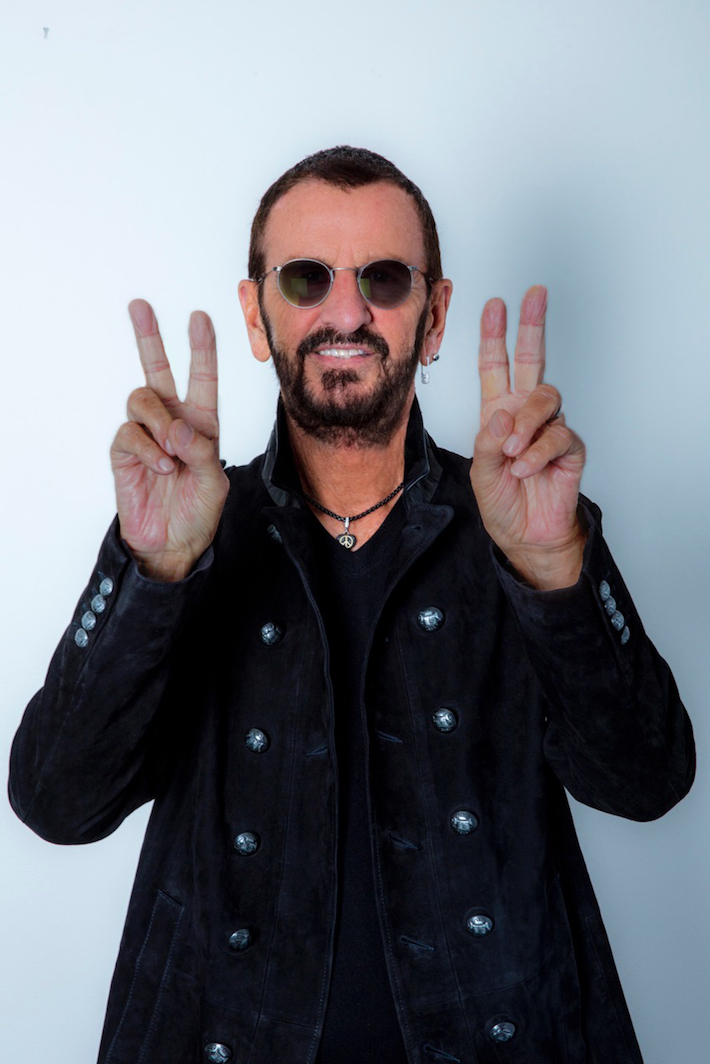 Photo Credit: Scott Robert Ritchie
Monday, January 28, 2019 – Ringo Starr and his All Starr Band today revealed additional tour dates for this year. 2019 marks the 30th Anniversary of Ringo and his All Starr Band, who played their first show on July 23, 1989 at the Park Central Ampitheatre in Dallas, Texas. The first leg of 2019 tour dates will begin with one US show at Harrah's Resort Southern California on March 21st before the band head to Japan. The Japanese tour will launch in Fukuoka on March 27th and wrap up April 11th in Osaka.
Then on August 1, 2019 the band resume at Harrahs in Windsor and they will conclude September 1st at the Greek Theater in Los Angeles, California, nearly 30 years to the day when the inaugural All Starrs completed their first tour on September 3, 1989.
The 2019 All Starr Band feature Steve Lukather, Colin Hay, Gregg Rolie, Warren Ham, Gregg Bissonette and the return of All Starr alum Hamish Stuart.
"My dream has always been, and still is, to play great music with great musicians – and I've been blessed to have so many incredible ones in my All Starr Bands," Ringo reflected. "We can't wait to get out there and share the joy with you – every show is always such a wonderful Peace & Love fest between us and our audiences."
The current itinerary for their 2019 30th Anniversary celebratory tour is listed below, with additional dates to be announced soon:
Ringo and His All Starr Band Tour — Japan 2019 Tour Dates:
March 27 Sun Palace Hall, Fukuoka, Japan
March 29 Uenogakuen, Hiroshima, Japan
April 1 Tokyo Electron Hall Miyagi Sendai Japan
April 2 Shimin Center, Koriyama, Japan
April 3 Hitomi Kinen Kodo, Tokyo, Japan
April 5 Dome City Hall, Tokyo, Japan
April 9 Zepp, Nagoya, Japan
April 10 Archaic Hall, Japan, Osaka
April 11 Orix Theatre, Osaka, Japan
North American 2019 Tour Dates:
August 1 The Colosseum at Caesars, Windsor, Ontario
August 3 & 4 Ravinia, Highland Park, IL
August 6 DPAC, Durham, NC
August 7 & 8 Ryman Auditorium, Nashville, TN
August 10 & 11 Wolf Trap, Vienna, VA
August 13 Berglund Center Coliseum, Roanoke, VA
August 14 The Met Philadelphia, Philadelphia, PA
August 20 State Farm Center, Champaign, IL
August 22 Mystic Lake Casino, Prior Lake, MN
August 23 Harrah's Council Bluffs Casino, Council Bluffs, IA
August 25 Santa Fe Opera House, Santa Fe, NM
August 26 Celebrity Theatre, Phoenix, AZ
August 28 Paramount Theatre, Oakland, CA
August 30 Thunder Valley Casino Resort, Lincoln, CA
August 31 Vina Robles Amphitheatre, Paso Robles, CA
September 1 The Greek Theatre, Los Angeles, CA
This July 7, 2019 Ringo will return to Capitol Records Tower in Los Angeles for his annual Peace & Love Birthday Celebration, where he joins gathered fans and invites anyone anywhere around the world to think, say or post #peaceandlove at Noon their local time. This creates a wave of Peace & Love across the planet, starting in New Zealand and ending in Hawaii. Ringo began these in 2008 at the Hard Rock Café Chicago and last year he celebrated the 10th Anniversary at the Hard Rock Café Nice. In the ensuing years it has grown enormously and in 2018 there were Peace & Love events in over 60 countries. Details for the 2019 event will be announced in the coming months.
Shipping now is Ringo's signed, limited edition book, Another Day In The Life. The third in Ringo's series of books with Genesis Publications, following the sell-out success of Postcards From The Boys (2003) and Photograph (2013), Another Day In The Life presents a previously unpublished collection of his photographs, captioned with his own thoughts and anecdotes.
Reflecting his love of music, travel and nature, Another Day In The Life shows us the world as seen through Ringo's eyes. From Los Angeles to Tokyo and everywhere in between, many of Ringo's observational images celebrate the quirkiness of life. Other photographs are taken behind the scenes during historic events, such as Ringo's acceptance of a Grammy Lifetime Achievement Award and his return to New York's Plaza Hotel, 50 years after The Beatles first visited the USA. Joined by Paul McCartney, Joe Walsh and a host of All-Starr friends, in Another Day In The Life Ringo Starr shares personal moments from a legendary life in music, and offers a unique and inspiring look at the world around us. Proceeds from the sale will go to Ringo's Lotus Foundation charity. For more information go to www.ringobook.com.
For more information please visit: www.ringostarr.com
Media Contact: Elizabeth Freund Elizabeth@Beautifuldaymedia.com
About Ringo
Born Richard Starkey on July 7, 1940, Sir Ringo Starr knew "at a very young age" what he wanted to do. Since beginning his career with The Beatles in the 1960s, Ringo has been one of the world's brightest musical luminaries. He has enjoyed a successful, dynamic solo career as a drummer, singer, songwriter, collaborator and producer. He is a longtime advocate for humanitarian and environmental causes.
Throughout his career he has received nine GRAMMY® Awards, and has twice been inducted into the Rock and Roll Hall of Fame — first as a Beatle and then as solo artist. Between 1970 and 2017, Ringo has released 19 solo studio records. He has acted in over 15 films, received an Academy Award®, and has been nominated as an actor for an Emmy®. Ringo has published four books, his most recent, 'Another Day in the Life' was released in November 2018. In March 2018 Ringo was knighted by Prince William, having been selected for the honor by Queen Elizabeth II for knighthood for his music and charity work.
For all his many creative successes, Ringo is and always will be first and foremost a musician, a drummer. Peace and love are his life's rhythm and melody, and he propels this universal message in everything he does: his evocative artwork, his enthused live performances, his legendary songs, all imbued with the joy, reflection, and wisdom of the music icon the world knows and loves simply as "Ringo."
About Genesis Publications
Genesis Publications was founded in 1974 in Britain as an independent publishing house true to the arts of printing and craftsmanship. Today, Genesis creates some of the world's most sought-after books for readers in 90 countries, and in 2017 is celebrating its 100thedition (see more at genesis-publications.com).